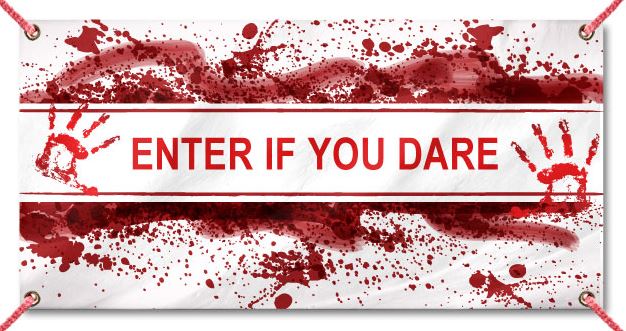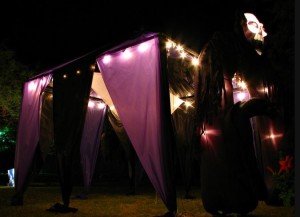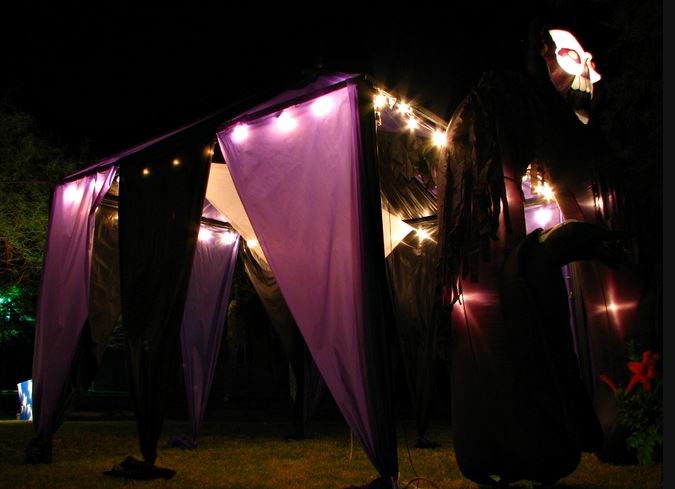 As the kiddies are finishing up their pumpkin carvings; and you scurry around getting those last minute cobwebs hung; zombies set up just right for tonight……I sit in Outlet Tags Canopies Head Office surrounded by creepy custom canopies and ghastly personalized banners waiting for customer pick-ups.
Already today, I have met quite the assorted array of big kids hiding out in adult wardrobe – excited and anticipating how they are going to scare the heebie jeebies out of the neighborhood kids tonight.
One such customer purchased a black pop-up canopy, purple walls, orange table covers and custom banner. "What are you planning tonight?" I asked. His reply while giggling like a school-girl, "Do you have kids? You have to come by and see for yourself!" Then He rushed off to put his haunted house together. I can only image from the personalized banner we had created for him how much fun he is going to be adding to his communities' events planned for the kids tonight.
A very loyal customer of ours dropped in on Thursday, needing a branded table cover made RIGHT NOW! It seems, the coffin he has on display in his front yard has to rest on just the right hue of blood and guts….and he knew we could colour-match his exact graphic requirements using a full dye-sublimation process on our stretch 8ft table cover. I am now happily munching away on the "Thank-You" candy he brought to me when picking up his item this afternoon 
If you are on the west end of the city tonight, let me know if you come across a parking lot-sized haunted maze, created by adjoining 20 of our XTREME heavy-duty black and orange pop-up Canopies! Can't wait to see how these clients turned our most durable steel tents into an elaborately terrifying exhibit!
We are still open for a couple hours….So if you need that last minute extra something to complete your graveyard haunts this evening, feel free to drop in and see us. We do have orange and black pop-up canopies in stock. Be safe out there tonight and try not to let the Ghouls and Goblins get you!